Summerfolk is Back!
Relief Turns to Celebration
Last updated: Dec 07, 2022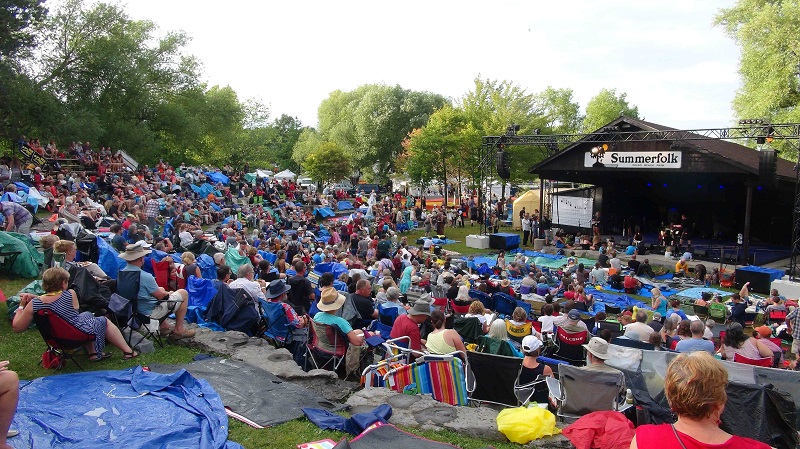 After two disruptive but innovative years Summerfolk Music and Crafts Festival, the now 47 year old offspring of the venerable Georgian Bay Folk Society, is returning stronger – and safer – than ever. Once again, from August 19th to 21st, performers and fans from across the world will wend their way to Kelso Beach at Owen Sound's Nawash Park. In addition to enjoying inspiring songs served up by consummate folk musicians, visitors will be treated to a weekend of one-ofa-kind artisans and food to satisfy every tastebud. "It will be heartwarming to reconnect with fellow performers, artisans and fans who we haven't seen for a couple of years" said Summerfolk 47 Artistic Director James Keelaghan. "Feelings of long-awaited relief will be quicky overtaken by celebration. It's been a long time coming.

Singer/songwriter James Keelaghan is widely considered to be the poet laureate of Canadian folk and roots music. He brings the same creative passion, intensity and curiosity that has earned this world-wide respect to his pivotal responsibilities as Summerfolk Artistic Director, a role he has cherished for 11 years. This year he is looking forward enthusiastically to appreciating the virtuosity of the outstanding lineup he has assembled. Headline performers include:

Raine Maida, best known as lead vocalist and primary songwriter of the alternative rock band Our Lady Peace;

Three-time Juno Award winner and Grammy winner Chantal Kreviazuk;

Le vent du Nord, a driving force behind the progressive folk movement in Quebec;

Matt Anderson, a creative blues guitarist and singer-songwriter from New Brunswick;

Leela Gilday, a Dene-Canadian singer songwriter, born and raised in Yellowknife;

The Irish-born Canadian contemporary folk singer-songwriter Irish Mythen; and

My Son the Hurricane, the multi-horn, multi-drummer, multi-singer, brass funk band.

Keelaghan observes that the performers are eager to perform live again after the Covid lockdown. "It's rewarding to hear how much our folk festival is appreciated by the performers we are looking forward to enjoying. We had literally hundreds of professional musicians seeking to be part of the weekend. It's easy to forget that they have had a very hard time during the pandemic and it's great to be able to offer them a stage to get performing again."

According to James that same appreciation applies to the audiences too. "Many of our core audience members have come to 'expect the unexpected' in real time on the stage. And Summerfolk 47 won't disappoint in this regard. Stay tuned!"

Two years ago the picture wasn't nearly so bright. Like so many other events and activities Summerfolk was faced with Covid-related postponements, cancellations and the looming threat of more lasting damage. But the same intrepid spirit and creativity that has been Summerfolk's hallmark since 1976 came to the fore. Summerfolk 2020, A Virtual Night at the Festival, greatly exceeded modest expectations. James estimates that upwards of 5,000 people tuned into the livestreamed music festival featuring artists performing from their homes or studios. "We had much better engagement than many other festivals because of the iconic nature of Summerfolk and because we sought to meaningfully engage our local population first and foremost," he said.

In 2021 Summerfolk 46 was another solid step forward in still-trying circumstances. Keelaghan and team staged many sold-out performances at 18 venues. Protecting public and performer safety was paramount to its success. Crowd sizes were limited at each venue. Patrons were seated with their bubbles, socially distanced from others. Masks were required except when seated for the shows. But sadly, due to pandemic-related health and safety protocols, there was neither an artisan village nor food court.

Restrictions will be less onerous this year but protecting public health still has high priority. Mask requirements and limits on audience size have been eased from 2021 but sites have been redesigned to yield more space to move about and spread out. There will be one less stage; fence lines have been increased; and tables will be smaller in the bar tent. All of this reflects the 'new normal' as Summerfolk, like all of us, better adapts to protect its patrons, performers and volunteers from Covid – and other future infestations.

Happily this year the Artisan Village of hand-picked vendors, will be thriving once again, as will the Food Court. Both were unfortunate casualties in 2020 and 2021. Visitors will find a wide variety of treasures and handmade gifts in the Village including handmade instruments, jewelry, clothing and whimsical items like sock puppets. Food Court vendors will offer many menu choices including vegetarian, organic, international delights, and healthy choices at affordable prices. Preference was given to vendors who use meats and vegetables that are grown and raised locally and to booths conducive to the Festival milieu.

The Summerfolk Music festival was founded in 1976 by brothers Tim and John Harrison and over the ensuing 47 years has become internationally renowned for its music and craft excellence. Of particular note is the blending of contemporary artists with traditional folk musicians. The festival began very modestly with audiences sitting on garbage bags in a muddy field in 1976, but over time has grown to a four day festival with multiple musical stages, an Artisan Village and Food Court. The festival hosts thousands of attendees yearly and hundreds of volunteers work tirelessly (thank you!) to provide services throughout the weekend. Thanks to partnerships between the City of Owen Sound and the Georgian Bay Folk Society, Kelso Beach now welcomes crowds to a limestone amphitheater with seats for 3,000 people and a covered stage dedicated to the memory of Stan Rogers, one of Summerfolk's original performers and largest supporters.

Summerfolk experienced heavy rain during 20 of its first 30 years to the extent that long-time festival-goers refer to it affectionately as 'Summersoak". During years when lightning forced the sound crews to shut down the PA systems and wait for the thunder to subside, sometimes performers have been known to take cover in the middle of tents and stages, inviting the audience in from the rain for intimate acoustic performances and sing-a-longs – a perfect example of what James calls "expecting and enjoying the unexpected". Let's hope that Mother Nature has a sunnier disposition this August. She should know that we are just emerging from enough adversity to last a lifetime.

Something else to celebrate is the Young Discoveries Showcase. Since 2007 Summerfolk has reserved performance spaces for performers under age 21 who prevailed through two rounds of competitive, judged performances.

For more information on Summerfolk 47, including a full schedule and biographies of each performer, or to buy tickets, visit summerfolk.org. Your support of local music will not only recharge your batteries with wholesome fun and entertainment but will generate the added benefit of giving artists, artisans, vendors and volunteers the love and recognition they so richly deserve after two years of darkness.